Today I'm going to start off with sharing a love story and linking up with Harley & Jane this week because, well, they're neat.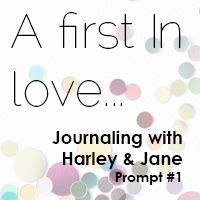 I was 3 years old the first time I fell in love.
He lived in the apartment next door to ours.
I don't remember his name.
He had a Magna Doodle table. You know, with the shape stamps and two kinds of magnet pens.
I was head over heels.
I very clearly remember my Uncle Aaron coming over to that boy's apartment on my fourth birthday to tell me I had to go eat cake and let people sing to me.
How dare he interrupt such blissful, magnetic love?
And so,
Dear Magna Doodle Boy,
You were better than cake and ice cream.
You may have also given me superficial ideas about love.
All the same, there will still always be a special place for you (and your magna doodle) in my heart.
Love,
Elise
P.s. I now need an iPhone.
Dear babe the not pig,
I keep having dreams about you. In them, you sort of woo me.
I'm not certain what that means about real life.
Love,
Elise
Dear Flamingo,
So maybe October is too fast. Early November could happen though, right?
Your girlfriend's roommates. :)
If she ran into your arms and smooched you, you'd oblige, right?
We'll work on convincing her.
I know you're busy and serving a mission and all, but I would love it if you'd use some of your precious p-day time to finally write me back. I'm getting antsy.
Really officially over you. We're to the meh stage.
It's cool,
Elise
Dear M@,
Stoic turtle is SO the new black.
Love,
Elise
Dear boys peeps:
Write your DB post, put the button on it, and link it up over here.
Then, go read the other DB posts linked up.
Share the DB lovin'.